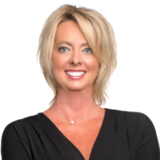 Kristi Reinertsen
Coldwell Banker Realty
214-995-0425
KRISTI REINERTSEN
Kristi Reinertsen is a realtor with Coldwell Banker Realty. Though located in Frisco, Reinertsen proudly serves the surrounding areas of the Dallas metro area. Her passionate attitude and artistic eye result in her unique insight to best accommodate the most upscale and sophisticated properties and clientele. As an eleven-year top producer, Kristi specializes in: Buyer's Agent, Listing Agent, Relocation, and Staging. She consistently provides exceptional communication, professionalism, respect, and positivity in her work. Whether a residential resale or a new build— Kristi's professional perspective can provide the support your vision needs. Her extensive work experience results in meaningful relationships, with builders, contractors, and other expertise in the area. Kristi is deeply invested in her work and community.
Throughout the planning stages, negotiations, and budgeting process—Kristi is a creative problem-solver, and will do whatever it takes to ensure her clients receive the absolute best quality, service, and deal. Furthermore, Reinertsen ensures her clients understand every step of the process. Sellers receive a thorough Market Analysis rundown, net sheets, & professional marketing plans, and checklists of individualized items for that particular property to sell. Buyers receive extensive information about area schools, subdivisions, and businesses in the area.
Outside of her work, Kristi is both a wife and a mother of three boys. She has been a resident of Frisco for over twenty two years, as it has grown from 8,000 to over 195,000 residents. She has been a strong advocate for the movement and changes to the area, and is optimistic about opportunity beheld in the future. There are countless real estate agents working in this area as well. What sets Reinertsen apart is the relationships she builds with her clients. As an agent, she truly takes on her clients' projects and dreams as if they are her own. No other agent is as adamant, qualified, respected or hard-working as Kristi Reinertsen.
CERTIFICATIONS & RECOGNITIONS
Accredited Buyer Representative
Certified Luxury Home Marketing Specialist
D Magazine; Top Producer

2015
2016
2017
2018
2019
2020

Platinum Club
Presidents Chairman Award; Gold
Top 2% of Realtors