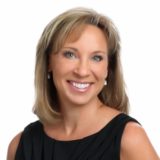 Lori Vaden
COMPASS Real Estate
214-797-1015
"Because Your Story Matters"- Lori Vaden West
For Lori Vaden West, the story is what matters the most.  Your story.  The story of who you are, where you've been, and where you want to go next.  As an award-winning agent with over 20 years of experience in marketing homes in the greater Dallas-Fort Worth area, she knows the value of a good story, and that finding it can take resourcefulness, diligence, and ingenuity.
Lori began her career in 2006 as an individual agent.  She joined a top team in 2011 as the Agent Manager and learned her craft from the inside out.  Lori proved to be a natural and quickly leveraged her talents to double the agents' production volume to 45 million in her first year.
After spending ten years gaining hands-on experience in every aspect of the Real Estate business, Lori formed The Lori Vaden Group; a team carefully selected from the very finest in the business to form a close-knit "family" offering seamless assistance in every aspect of the buying/selling journey.
This deeply rooted idea of complete service to others is one that has been foundational to Lori throughout her life. Growing up with a super-hero dad who could make numbers dance, and a Florence Nightingale mom — servant-giving, coupled with critical thinking, has been instilled in the very fiber of her being. For Lori, real estate isn't just about buying and selling homes, it's about nurturing each individual she meets, turning hope into action, and making the numbers not just work – but sing!
Recognized for her savvy negotiation skills and cutting edge marketing strategies, Lori has been voted Best Realtor D Magazine multiple years and is ranked in the Top 1% of Realtors Nationwide. Lori's reputation for tenaciously protecting her clients' interests is part of her legacy.
Whether searching for a dream home or selling a home you've poured your heart into, she's one of the best in the nation, because serving is Lori's greatest joy – and telling your best story, her passion.
EXPERTISE
Residential property sales & exchanges, including luxury homes, condominiums, farm and ranch, investment properties, and first-time homebuyers.
Skilled negotiations, knowledgeable analysis of property values and market trends.
Creative selling strategies encompassing a broad range of marketing channels and services.
Expertise and renowned credibility in resolving difficult transactions.
Homes sold in record time and, on average of 99.35% of the listing price.