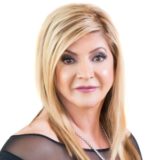 Christina White
COMPASS Real Estate
972-989-2010
The Christina White Group
The Christina White Group is also known as "the 'Elite' in the industry of real estate for their marketing of custom and luxury properties.  I specialize in providing the best real estate experience in the marketplace in both the Luxury and Custom market, and I am recognized as a leader in the real estate industry.
Born in England and now living in the Dallas area for over 25 years, I found my passion in Real Estate. I can say I have been honored and proud to represent many high level corporate executives, professional athletes, celebrities, and medical practitioners in the Dallas Fort Worth Marketplace. I also understand that confidentiality is a key factor when assisting the influential buyers and sellers.
I learnt a long time ago that my clients are not only looking for a home, but also they are looking for a "lifestyle". Listening to your clients needs is so important in what is considered to be one of the most important decisions you will make in your lifetime.  Being compassionate and understanding to your clients needs is paramount in this industry.  After all, I want you to feel confident that I will represent you in the best possible way.  My reputation for excellence is based on my unique ability to match "one of a kind" clients with "one of a kind" properties." I am dedicated to helping my clients attain their goal to an exceptional lifestyle.
When it comes to the Marketing and Sale of your home, as a member of the Compass Real Estate family, our presence is evident with our offices located from coast to coast.
As a Certified Relocation Specialist I can also handle all your relocation requirements.
Awarded Top10, Best of the Best in Real Estate
Received "Top Agent" Nationwide
Awarded Five Star Agent 2013-2019
Ranked in the Top 1% in the Nation!
1 Frisco Team
The "Elite in Luxury Real Estate". – Previews Luxury Home Specialist
Best D Magazine 2016-2018
Five Star 2020