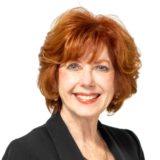 Janice Berg
Ebby Halliday Realtors
214-356-5103
Janice Berg
With great experience as a Frisco Realtor and as a Realtor servicing all areas in North Texas, Janice helps both buyers and sellers meet their real estate objectives with her extensive knowledge of the community, strong negotiation skills and a commitment to providing excellent service.  She will work tirelessly on your behalf to make your next home buying or home selling experience a pleasant and enjoyable one.
Janice proudly serves on the Realtor Advisory Board for numerous master planned communities in the area including Phillips Creek Ranch, Windsong Ranch, The Tribute and Union Park.
Throughout her 40 years as a Frisco resident, Janice has been dedicated to the community and the families that live here.  She was awarded Frisco's prestigious Silver Citizen of the Year, which recognizes her lifetime commitment to the citizens of Frisco.
Janice is focused on the unique desires of her mature clients.  As a Senior Real Estate Specialist and a former resident of an active adult community, Janice understands their housing needs and can help them make the right decisions for their changing lifestyles.
For sellers, it is Janice's commitment to help sell your home in the shortest possible time while helping you attain the highest possible price for your real estate.  Her experience in Interior Design and Home Staging allows Janice to set her listings apart from the competition.  Janice personally stages every room in every home she markets to ensure her listings show at their top potential.
For buyers looking for homes or other real estate opportunities here in Frisco or other surrounding communities, Janice will work with you to find your ideal home. She provides you with all of the necessary tools for finding the right property and negotiates the best possible price for you.  Buyers are comfortable with Janice as she strives to make their home buying experience enjoyable and stress free.
Frisco Silver Citizen of the Year
Ebby Companywide Honor Roll
Ebby Star Award
D Magazine Best Real Estate Agent
Five Star Real Estate Professional